Hours
MONDAY – FRIDAY
Breakfast: 6AM – 10AM
Lunch: 11AM – 4PM
Dinner: 4PM – 10PM
SATURDAY & SUNDAY
Breakfast: 6AM – 10AM
Brunch: 11AM – 4PM
Dinner: 4PM – 10PM
Address
3600 Morse Road
Columbus, Ohio 43230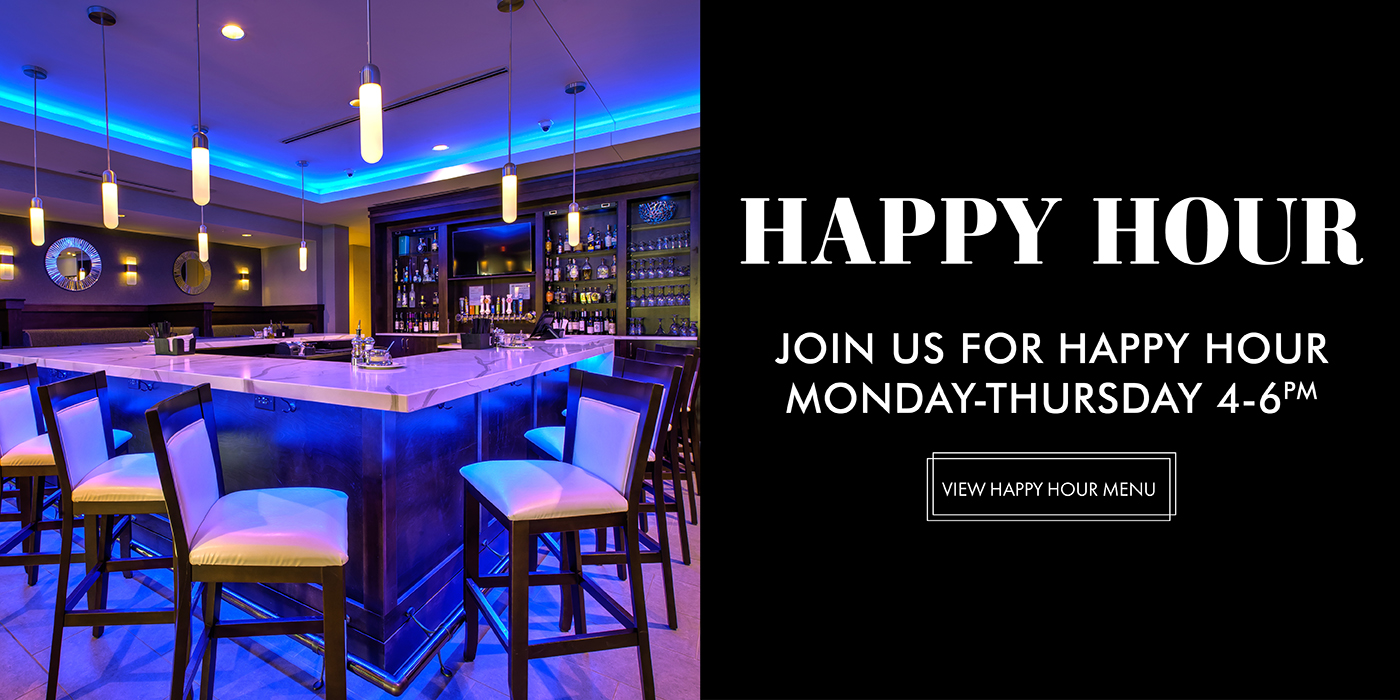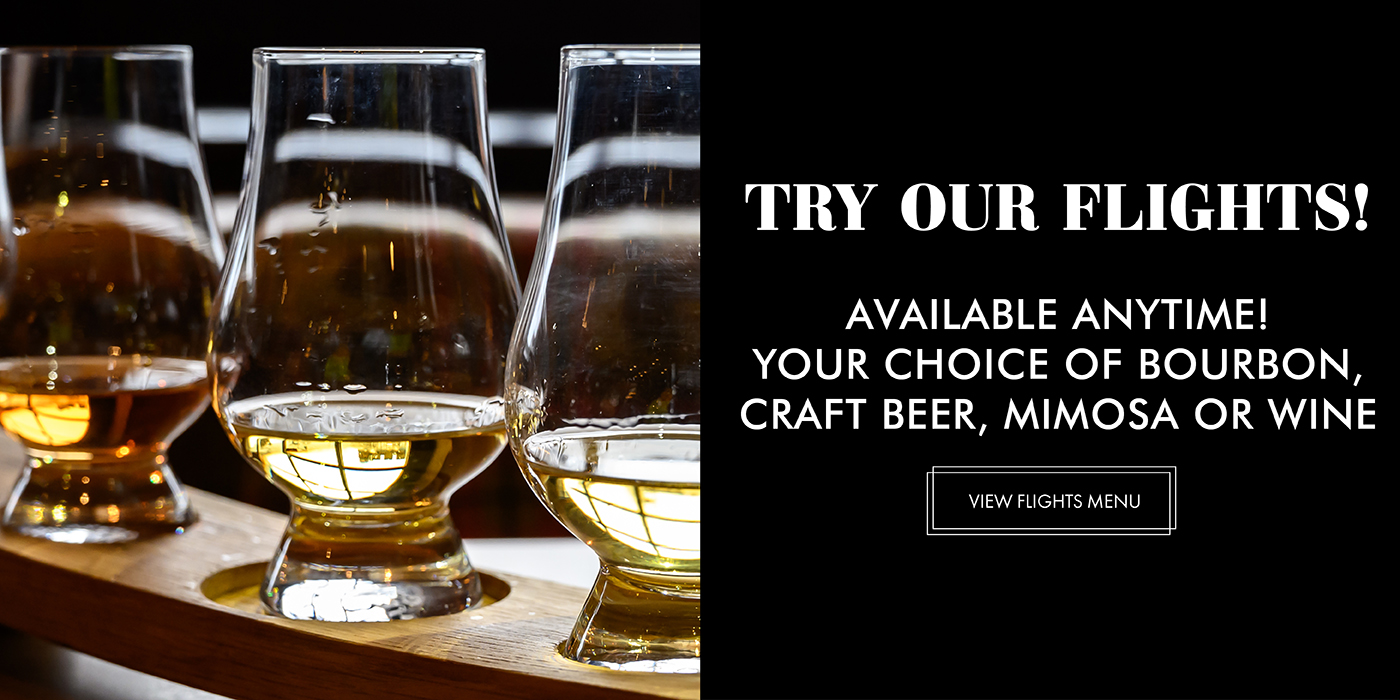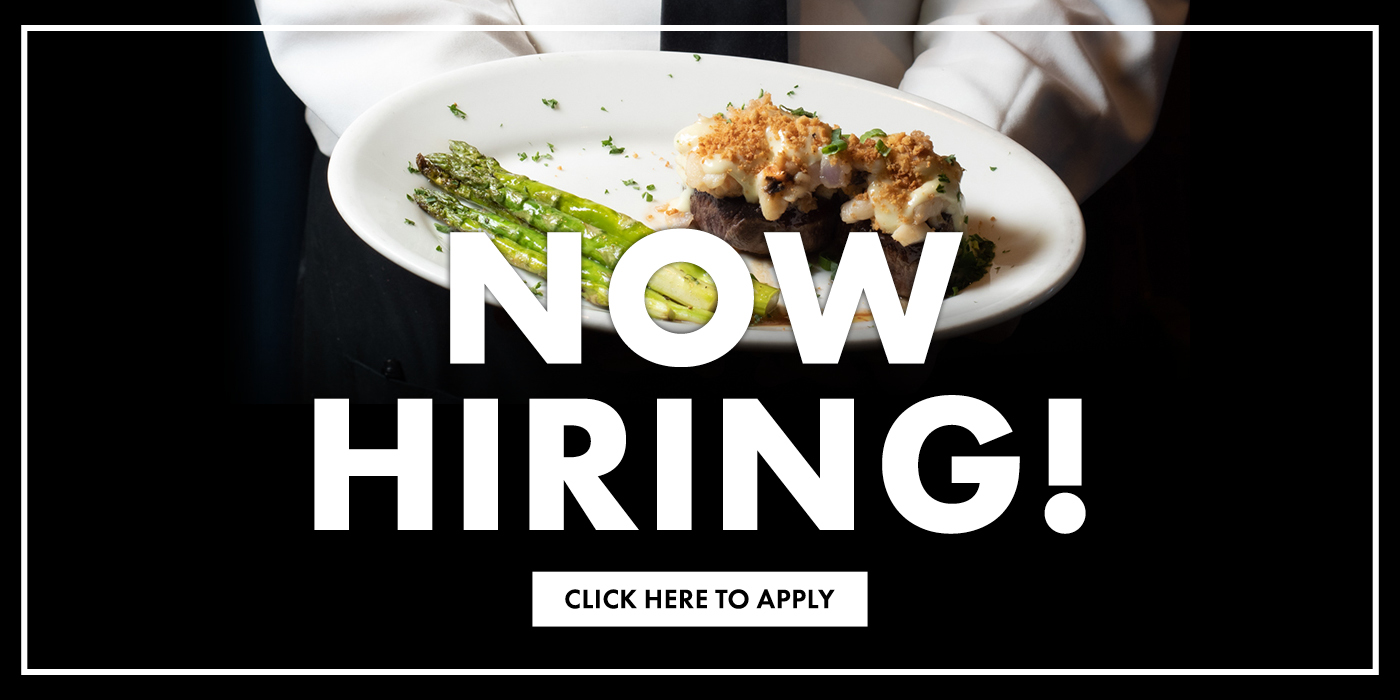 Entrées
Skewer of filet tips, spring greens, Gorgonzola cheese, cherry tomatoes, thick-cut bacon and Johnny's Tribute, hot bacon dressing

Spring greens, candied pecans, sliced apples, goat cheese crumbles and dried cranberries with a honey cider vinaigrette

Johnny's Ultimate Italian Beef

17

Shaved prime rib, grilled peppers and onions, house-made spicy giardiniera and provolone cheese on a toasted baguette

Clubhouse Monte Cristo

14

Deli-style ham and smoked turkey with Swiss & American cheese deep fried on honey wheat bread, served with raspberry preserves and sprinkled with powdered sugar

Shaved pastrami, Swiss cheese, sauerkraut and Thousand Island dressing on grilled artisan marble rye

Grilled chicken breast and sliced tomato topped with Johnny's own Caesar salad and crisp prosciutto on grilled sourdough. This sandwich is worthy of the namesake.

Topped with bleu cheese and thick-cut smoked bacon

Pepperjack cheese, fried fresh jalapenos and roasted jalapeño mayonnaise

Ravioli, basil pesto, parmesan cheese and Johnny's marinara sauce

Johnny's Stuffed Meatloaf

16

House-made meatloaf stuffed with ricotta cheese, spinach and mushrooms, served with cabernet demi-glace and garlic mashed potatoes
Johnny's Pick Two
HALF SALAD | HALF SANDWICH | CUP OF SOUP
Combine any soup, salad or sandwich below to create your own lunch favorite. - 12
HALF SALAD SELECTIONS

TRADITIONAL CAESAR
HARVEST SALAD
JOHNNY'S HOUSE SALAD

HALF SANDWICH SELECTIONS

CLUBHOUSE MONTE CRISTO
THE JOHNNY
CHOPHOUSE REUBEN
Soups
BAKED POTATO SOUP

Cup 5 | Bowl 7

French Onion

Cup 5 | Bowl 7

Soup Of The Day

Cup 5 | Bowl 7
Appetizers
Italian Sausage Stuffed Mushrooms

11

Smothered with fresh mozzarella cheese and baked
Light Portion – 8

Served with marinara and Johnny's dipping sauce
Light Portion – 8

Pan Seared Sea Scallops

15.5

Seared jumbo scallops with brussels sprout slaw, tossed in Johnny's hot bacon dressing

Johnny's Toasted Ravioli

10

Blended cheese ravioli with marinara
Light Portion – 6

Grilled focaccia bread, Roma tomatoes, goat cheese, onions, olive oil and basil
Light Portion – 7
Even betta with shrimp – 11
Light Portion – 8

Fresh baked bread stuffed with sausage, peppers, onion, fresh mozzarella and colby cheese, served with marinara sauce
Light Portion – 8

Bubbly blend of melted cheeses, spinach and artichokes, served with toasted sourdough baguettes

Classic Shrimp Cocktail

14

Jumbo shrimp served with cocktail sauce and Johnny's dipping sauce

Made in-house and served with toasted crostini for dipping

Shoestring zucchini fries served with a rémoulade dipping sauce
Light Portion – 8

Jumbo lump crab meat served with a rémoulade sauce

Little Italy Combination

20

Portion of the calamari marinara, sausage bread, toasted ravioli and bruschetta
Light Portion – 16
Entrée Salads
Additions: Garlic Sautéed Shrimp 5.5 | Grilled Salmon Fillet* 6 | Grilled Chicken Breast 4 | Filet Tip Skewer* 7
Johnny's Supper club Spinach

13

Spinach with sun-dried tomatoes, sweet toasted pecans, crispy prosciutto and hard cooked egg with Johnny's hot bacon dressing

Spring greens, tri-colored apples, Gorgonzola cheese and sweet toasted pecans with Johnny's Waldorf dressing

Spring greens, pecan-crusted goat cheese, apple, carrots and Gorgonzola cheese with a white balsamic vinaigrette

Romaine, garlic croutons and parmesan cheese with a house-made Caesar dressing
Soups
Baked Potato

Cup – 5 | Bowl – 6.5

French Onion

Cup – 5 | Bowl – 6.5
Autograph Pastas
Served with a house salad and fresh baked focaccia bread.
Side Salad Substitute: Caesar 3.5 | Spinach 4.5 | Goat Cheese 5.5 | Romaine Wedge 6.5
Pasta layered with seasoned ricotta cheese, plum tomatoes, meat sauce and fresh mozzarella cheese

Marilyn's Trademark! Blended cheese ravioli topped with lobster, shrimp, artichokes and prosciutto, served in a garlic cream sauce

three Cheese Ravioli & Shrimp Rosa

20

Ravioli filled with a blend of cheeses, shrimp and spicy Rosa sauce

Shell pasta baked in a rich cream sauce with lobster and a crunchy bread crumb topping

Linguine served with a grilled chicken breast, sun-dried tomatoes and prosciutto in a parmesan cream sauce

Seafood Pasta Pomodoro

23

Shrimp, mussels, scallops, garlic, spinach and portabella mushrooms atop of fettucine with olive oil and an aromatic tomato broth

Chef Andy's Homestyle Cavatappi

20

Spicy Italian sausage, portabella mushrooms, cavatappi and spicy tomato cream sauce

Shell pasta, Italian sausage deglazed with chicken stock, sun-dried tomatoes, spinach and parmesan cheese
Traditional Pastas
Additions: Garlic Sautéed Shrimp 5.5 | Grilled Salmon Fillet* 6 |Grilled Chicken Breast 4
Johnny's Italian Sausage 3.5 | Mushrooms & Thick-Cut Bacon 3
Fresh basil, red cherry tomatoes and shaved Asiago cheese with linguine

Fettuccini served in a garlic cream sauce

Classic Spaghetti marinara

13

Spaghetti served with our signature marinara sauce
With meat sauce – 15
Steaks
All of Johnny's entrées are served with our house salad and fresh baked focaccia bread.
Choice of garlic mashed potatoes, fresh vegetables, pasta marinara or baked potato.

Our bred-to-be-the-best premium steaks are hand selected and aged a minimum of 28 days.
Johnny's Steak De Burgo

30

Our signature steak – beef tenderloin medallions, roasted garlic, basil and oregano served in a cream sauce

Johnny's Filet Medallion Trio

31

Three individual filets topped with horseradish, Gorgonzola and parmesan crusts, served in a rich demi-glace

Beef medallions served with sautéed shiitake mushrooms, topped with a brandy cream sauce and asparagus

Filet topped with a Johnny's crab cake, asparagus and béarnaise sauce

9 oz. top sirloin served with three jumbo shrimp, spicy tomato sauce and balsamic drizzle

Midwest's Best Filet Mignon

6 oz. – 29 | 10 oz. – 39

Our most tender cut of lean, midwestern beef

Perfectly marbled steak for peak flavor

Parmesan Crusted New York Strip

29

Abundant marbling for full flavor, topped with Johnny's parmesan butter crust

Chubby Cut Top Sirloin

9 oz. - 23

A steakhouse classic, combining marbling, tenderness and flavor

Johnny's Bone-in Ribeye

18 oz. - 39.5

Both flavorful and tender with a perfect amount of marbling

Porterhouse Steak

22 oz. - 37

Combining the rich flavor of a strip with the tenderness of a filet

Steak Toppers

Butter Crusts:
Horseradish, Parmesan or Gorgonzola Cheese – 2
Grilled Onions – 2
Balsamic Sage Mushrooms – 2
Oscar, Sinatra, Chanel or Diavolo Style – 7
Surf & Turf
Crusted Steak and Shrimp

31

Parmesan crusted top sirloin served with jumbo shrimp stuffed with lump crab meat resting on béarnaise sauce
Substitute a 6 oz. filet – add 10

Filet and Seafood Rockefeller

39

Scallops and lobster served alongside beef tenderloin medallions with a Gorgonzola cream sauce
Specialty Beef
Veal sautéed with shrimp, crab meat, mushrooms, sun-dried tomatoes, fresh basil, roasted garlic and light cream sauce

Veal topped with marinara sauce and fresh mozzarella cheese

Heart of Italy Combination

27

Portion of the chicken parmigiano, fettuccine minelli and the parmesan crusted top sirloin
Substitute a 6 oz. filet – add 10

Breaded veal scaloppini and shrimp, topped with spicy Rosa sauce

Oven Roasted Prime Rib

10 oz. 25 | 14 oz. 29 | 18 oz. 34

Rubbed with fresh herbs and spices then slow-roasted, served with beef au jus and creamy horseradish sauce
Chicken
Two chicken cutlets breaded in herbed focaccia crumbs, topped with marinara and fresh mozzarella cheese

8 oz. chicken breast dredged in flour and sautéed in lemon, butter, white wine, capers and red onion
Seafood
Salmon roasted on a cedar plank and glazed with apricot butter

Jumbo shrimp stuffed with lump crab meat, served with béarnaise sauce

Johnny's Lobster Dinner

Market Price

An 8 oz. cold water lobster tail served with butter

scallops and arugula Risotto

26

Seared scallops, lemon butter, cherry tomatoes, arugula and shaved Asiago cheese, served over parmesan cheese risotto

Featured Daily Seafood

Ask your server about our daily seafood feature!
Upgrades
Potato/Vegetable

Loaded Baked Potato 2
Asparagus 4
Asparagus with Béarnaise 4.5
Creamy Risotto 3.5
Broccolini 3.5
Creamed Spinach Potatoes 4
Brussels Sprouts 3.5
Lobster Mac & Cheese 5
Iron Skillet Potatoes 9

Salad

Caesar 3.5
Spinach 4.5
Goat Cheese 5.5
Romaine Wedge 6.5

Additions

Grilled Shrimp Skewer 7
Seared Sea Scallops 10
Lobster Tail (8 oz.) – Market Price
Salads
Skewer of filet tips, spring greens, Gorgonzola cheese, cherry tomatoes, thick-cut bacon and Johnny's Tribute dressing

Johnny's Supperclub Spinach

13

Spinach with sun-dried tomatoes, sweet toasted pecans, crispy prosciutto and hard cooked egg with Johnny's hot bacon dressing

Fresh Atlantic salmon, parmesan cheese, crostini, whipped goat cheese, red onion, bruschetta tomatoes and spring greens tossed in white balsamic vinaigrette
Chicken & Seafood
8 oz. chicken breast dredged in flour and sautéed in lemon, butter, white wine, capers and red onion

Salmon roasted on a cedar plank and glazed with apricot butter

Johnny's Lobster Dinner

Market Price

An 8 oz. cold water lobster tail served with butter
Steaks
STEAK TOPPERS | Balsamic Sage Mushrooms – 2 | Grilled Onions – 2
Johnny's Steak De Burgo

30

Our signature steak – beef tenderloin medallions, roasted garlic, basil and oregano served in a cream sauce

Midwest's Best Filet Mignon

6 oz. 29 | 10 oz. 39

Our most tender cut of lean, midwestern beef

Perfectly marbled steak for peak flavor

Chubby Cut Top Sirloin

9 oz. - 23

A steakhouse classic, combining marbling, tenderness and flavor

Porterhouse Steak

22 oz. - 37

Combining the rich flavor of a strip with the tenderness of a filet
Sides
Potato / Vegetable

Fresh Vegetables
Baked Potato
Garlic Mashed Potatoes
Asparagus
Broccolini
Brussels Sprouts

Additions

Grilled Shrimp Skewer 7
Seared Sea Scallops 10
Lobster Tail (8 oz.) – Market Price
Brunch Specialties
Additions: house salad or cup of soup 2.5 | side Caesar salad 3.5 | bowl of soup 5
Fried Chicken and Waffles

21

Seasoned hand-breaded chicken tenders accompanied
by a Belgian Waffle and served with our sweet & spicy
thick-cut bacon
Upgrade: Mango Habanero Honey, (1) egg-cooked to order $3

Chubby Sirloin and Eggs Your Way

26

9 oz sirloin and 2 eggs (cooked to order). Served with Cheesy skillet potatoes
Steak Topper Upgrades
Butter Crusts: Horseradish, Parmesan or Gorgonzola – 2
Grilled Onions or Balsamic Sage Mushrooms – 2
Oscar, Sinatra, Chanel or Diavolo Style – 7

Johnny's Breakfast Burger

18

8 oz usda prime beef burger on a brioche bun, topped with egg (cooked to order), sweet & spicy thick cut bacon, sliced avocado, gouda cheese and raspberry aioli. Lettuce, tomato, red onion and pickles. Served with parmesan garlic french fries

Pepperjack cheese, fried fresh jalapeños and roasted jalapeño mayonnaise

Clubhouse Monte Cristo Sandwich

13.5

Deli-style ham and smoked turkey with Swiss & American cheese deep fried on honey wheat bread, served with raspberry preserves and sprinkled with powdered sugar

Shaved pastrami, Swiss cheese, sauerkraut and Thousand Island dressing on grilled artisan marble rye

Spring greens, candied pecans, sliced apples, goat cheese crumbles and dried cranberries with a honey cider vinaigrette
Add: Grilled Chicken 4
Garlic Sautéed Shrimp 5
Grilled Salmon Fillet* 5
Filet Tip Skewer* 7

Pepper Seared Salmon Salad

14

Fresh Atlantic salmon, parmesan cheese, crostini, whipped goat cheese, red onion, bruschetta tomatoes and spring greens tossed in white balsamic vinaigrette
Traditional Pastas
Additions:
Garlic Sautéed Shrimp 5 | Grilled Salmon Fillet* 5 | Johnny's Italian Sausage 3.5
Grilled Chicken Breast 4 | Mushrooms & Thick-Cut Bacon 3
Garlic cream sauce and fettuccine

Classic Spaghetti Marinara

13

Spaghetti served with our signature marinara sauce
With meat sauce – 15

Fresh basil, red cherry tomatoes and shaved Asiago cheese with linguine

Ravioli, basil pesto, parmesan cheese and Johnny's marinara sauce
Cabernet Sauvignon
Napa County, California

Napa County, California

Napa County, California
Merlot
California

Sonoma, California

Nickel & Nickel Harris

115

Napa Valley, California
Pinot Noir
Central Coast, California

Oregon

Russian River Valley, California
Malbec / Chianti
Castello D'Albola

13 / 45

Chianti, Tuscany, Italy

Trivento Golden Reserve

18 / 60

Malbec, Argentina
Red Blends
Sonoma, California

Whitehall Lane Tre Leoni

27 / 95

Napa Valley, California

Napa Valley, California
Shiraz / Zinfandel
Torbreck Woodcutter's

19 / 65

Barossa, Australia

The Prisoner Saldo

25 / 85

Zinfandel
Interesting Whites
Riesling, Mosel

Moscato, Italy

Sauvignon Blanc, Napa Valley, California
Chardonnay
Wente Morning Fog

12 / 35

Livermore, California

Louis Jadot Pouilly Fuissé

23 / 72

France

Napa Valley, California
Pinot Grigio / Rosé
Pinot Grigio, Toscana, Italy

Pinot Grigio, Alto Adige, Italy

Rosé, California
Champagne / Sparkling Wine
Brut, California

G.H. Mumm Grand Cordon

100

Brut, France
Martinis
The Dirty Bird

Grey Goose Vodka, Bombay Sapphire, Olive Juice and Blue Cheese Stuffed Olives

Rude Cosmopolitan

Patrón, Triple Sec, Cranberry and Lime Juice

Thin Mint

Tito's Vodka, White Crème de Cacoa, Crème de Menthe and Baileys Irish Cream

Die Cast Martini

Watershed Vodka, Midori, Malibu, Splash of Pineapple Juice and a Sugar Rim

Real Deal Manhattan

Angel's Envy Bourbon, Sweet Vermouth and Orange Bitters

Amaretto Alexander

Disaronno Amaretto, Dark Crème de Cacoa, Tuaca and Cream

Raspberry Limoncello

Ketel One Vodka, Limoncello and Raspberry Purée

Tuscan Sunrise

Malibu Rum, Belvedere Vodka, Pineapple and Orange Juice

Rumchatini

RumChata, Stoli Vanilla Vodka, Frangelico and Cinnamon

Simply Peach Belltini

Absolut Vodka, Champagne, Peach Purée, Simple Syrup, Lime Juice
Bourbons & Scotches
Uncle Nearest 1884

7-year-old small batch offering

Blanton's

The taste profile is sweet with notes of citrus and oak

Watershed

Careful blending & layering of flavors builds complexity, bold flavor and rich mouthfeel

Four Roses Premium

Aged a minimum of 6 years, non-chill filtered and 104 proof

Breene French 10 Year

Fermented and distilled in alembic, Charente stills and aged for a decade

Old Pulteney 12 Year

Matured wholly in air-dried, hand-selected ex-bourbon casks

Lagavulin 16 Year

Deep, dry and exceptionally peaty bruiser

Glenrothes 18 Year

Complex & well-rounded expression, matured only in sherry seasoned oak casks
Contemporary Cocktails
Luxury Margarita

Patrón, Agave Nectar and Fresh Lime Juice with a Lime Twist

Moscow Mule

Smirnoff Vodka, Ginger Beer and Lime Wedges

Rich And Famous

Baileys Irish Cream and Disaronno Amaretto

"J" Manhattan

Watershed Bourbon (local), Sweet Vermouth and Cherry Juice

Old Fashioned Mule

Choice of Bourbon or Brandy, Bitters, Ginger Beer and Lime

Spicy Margarita

Don Julio Tequila, Grand Marnier, Fresh Lime Juice, Simple Syrup and Spices

Flame Of Love

Watershed Vodka, Fino Sherry and Orange Twists